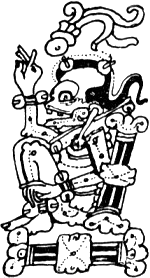 Infine parliamo anche di William S. Burroughs (1914 – 1997), uno degli scrittori che amo di più.
Ah Pook Is Here (trad. È arrivato Ah Pook, SugarCo) era stato progettato in origine (1970) come un libro illustrato sul modello dei superstiti codici maya. L'artista inglese Malcolm Mc Neill doveva disegnare le illustrazioni e Burroughs il testo.
Cominciò ad essere pubblicato con il titolo di The Unspeakable Mr. Hart sotto forma di fumetto sulla rivista Cyclops. Quando Cyclops chiuse, Burroughs e Mc Neill continuarono a sviluppare il progetto che divenne un libro fatto di testo e immagini di circa 120 pagine, alcune delle quali erano solo testo, altre solo immagini e altre ancora miste. In questa versione venne pubblicato nel 1971 da Straight Arrow Books in San Francisco.
In seguito (1973-1975), Mc Neill raggiunse Burroughs in America  per continuare a lavorare al libro, ma nel frattempo Straight Arrow Books chiuse e i due non riuscirono a trovare un editore per quest'opera dal formato così strano di cui alla fine, nel 1978, venne pubblicato il solo testo. La versione italiana è interessante perché contiene anche varie pagine di illustrazioni, sia pure in formato ridotto.
Ah Pook del titolo è una translitterazione di Ah Puch, dio della morte nella cultura Maya e re di Metnal, il nono livello del mondo sotterraneo Xibalba, luogo di oscurità e freddo. L'intero testo è sulla morte e come altri testi di Burroughs, è incredibilmente ricco di idee e suggestioni, tanto da ispirare altri artisti.
Qui, infatti, vediamo un breve film di animazione diretto da Philip Hunt nel 1994 con l'ormai famosissima voce di Burroughs e la musica tratta dall'album "William S. Burroughs – Dead City Radio", Track 4 – "Ah Pook The Destroyer / Brion Gysin's All-Purpose Bedtime Story", composta ed eseguita da John Cale.
Il film rappresenta bene parte dell'universo immaginifico e paranoico di Burroughs ed è stato premiato al Dresden Film Festival 1995 e all'Ottawa International Animation Festival 1994.