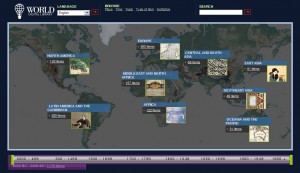 Un altro grande archivio apre le porte: si tratta della World Digital Library che ha dietro di sè l'UNESCO e si propone di raccogliere tesori culturali da tutto il mondo senza distinzione di tipologia. Manoscritti, mappe, libri rari, partiture, registrazioni, film, stampe, fotografie, progetti architettonici e quant'altro (cliccare l'immagine per ingrandire).
Il pubblico potrà poi navigare attraverso questi materiali, splendidamente catalogati, con un'interfaccia in sette lingue: Arabo, Cinese, Inglese, Francese, Portoghese, Spagnolo e Russo. Il sito ospita già alcune perle, come una antica versione manoscritta di Genji Monogatari (源氏物語, Storia di Genji, XI secolo), considerata la prima grande novella della letteratura mondiale.
L'interfaccia è molto bella; permette anche di zoomare sui materiali via rotellina del mouse e di scaricarli facilmente in pdf, anche se a tratti si rivela un po' pesante, soprattutto ad alti livelli di zoom.
Infine, è interessante vedere la lista degli sponsor riportata sul sito:
The Library of Congress and its WDL partners acknowledge the following financial contributors:
Google, Inc., for $3 million for the initial development of a WDL plan and the WDL prototype.
The Qatar Foundation, for $3 million in general support for the WDL, and to support the development of the Central Library of the Qatar Foundation as a key node in the WDL network.
The Carnegie Corporation of New York, for $2 million to support the inclusion of cultural institutions from sub-Saharan Africa and Eurasia in the WDL.
The King Abdullah University of Science and Technology, Saudi Arabia, for $1 million to support activities relating to the dissemination, through the WDL, of digital versions of manuscripts and other materials relating to science in the Arab and Islamic worlds.
Microsoft, Inc., for $1 million in general support.
The Lawrence and Mary Anne Tucker Foundation to support the establishment of a digital conversion center at the Iraqi National Library and Archives.
The Bridging Nations Foundation for the development of Middle East-related content for inclusion in the WDL.