La sonda Voyager 1 è stata lanciata il 5 Settembre 1977. Dopo aver sfiorato Giove e Saturno, il Voyager 1 si è lanciato verso i confini del sistema solare, destinato a perdersi nello spazio.
Attualmente è l'oggetto più lontano mai costruito dall'uomo. Si trova a circa 17 miliardi e 900 milioni di chilometri dalla Terra e si allontana alla velocità di 17.056 km/sec. Sembrerebbe aver oltrepassato l'eliopausa (il limite a cui arriva il vento solare) nel 2010, ma sono in corso ulteriori analisi per averne la certezza. Al di là di questo limite c'è solo lo spazio interstellare, pur rimanendo sempre all'interno della nostra galassia. In questa pagina trovate la distanza del Voyager 1 e della sua gemella Voyager 2, costantemente aggiornata.
Non tutti sanno che, nella remota possibilità che il Voyager 1 venga intercettato da una civiltà extraterrestre, è stato sistemato a bordo un disco in oro (la cosiddetta Golden Record) che contiene immagini, suoni e musica della Terra, oltre a messaggi in tutte le lingue e saluti del presidente degli USA Jimmy Carter e del segretario generale dell'ONU Kurt Waldheim, insieme alle istruzioni per accedervi. I contenuti sono stati selezionati da una commissione presieduta da Carl Sagan.
Per essere americani, (ma francamente non so chi erano i componenti la commissione, oltre a Sagan), la selezione è incredibilmente cosmopolita. L'americanismo viene fuori solo nel rock, dove spicca l'assenza (almeno) dei Beatles che negli anni '70 erano già qualcosa… Naturalmente, per quanto riguarda la musica contemporanea, al massimo si arriva a Stravinsky.
La lista dei contenuti musicali è la seguente:

Bach, Brandenburg Concerto No. 2 in F. First Movement, Munich Bach Orchestra, Karl Richter, conductor. 4:40
Java, court gamelan, "Kinds of Flowers," recorded by Robert Brown. 4:43
Senegal, percussion, recorded by Charles Duvelle. 2:08
Zaire, Pygmy girls' initiation song, recorded by Colin Turnbull. 0:56
Australia, Aborigine songs, "Morning Star" and "Devil Bird," recorded by Sandra LeBrun Holmes. 1:26
Mexico, "El Cascabel," performed by Lorenzo Barcelata and the Mariachi México. 3:14
"Johnny B. Goode," written and performed by Chuck Berry. 2:38
New Guinea, men's house song, recorded by Robert MacLennan. 1:20
Japan, shakuhachi, "Tsuru No Sugomori" ("Crane's Nest,") performed by Goro Yamaguchi. 4:51
Bach, "Gavotte en rondeaux" from the Partita No. 3 in E major for Violin, performed by Arthur Grumiaux. 2:55
Mozart, The Magic Flute, Queen of the Night aria, no. 14. Edda Moser, soprano. Bavarian State Opera,
Munich, Wolfgang Sawallisch, conductor. 2:55
Georgian S.S.R., chorus, "Tchakrulo," collected by Radio Moscow. 2:18
Peru, panpipes and drum, collected by Casa de la Cultura, Lima. 0:52
"Melancholy Blues," performed by Louis Armstrong and his Hot Seven. 3:05
Azerbaijan S.S.R., bagpipes, recorded by Radio Moscow. 2:30
Stravinsky, Rite of Spring, Sacrificial Dance, Columbia Symphony Orchestra, Igor Stravinsky, conductor. 4:35
Bach, The Well-Tempered Clavier, Book 2, Prelude and Fugue in C, No.1. Glenn Gould, piano. 4:48
Beethoven, Fifth Symphony, First Movement, the Philharmonia Orchestra, Otto Klemperer, conductor. 7:20
Bulgaria, "Izlel je Delyo Hagdutin," sung by Valya Balkanska. 4:59
Navajo Indians, Night Chant, recorded by Willard Rhodes. 0:57
Holborne, Paueans, Galliards, Almains and Other Short Aeirs, "The Fairie Round," performed by David
Munrow and the Early Music Consort of London. 1:17
Solomon Islands, panpipes, collected by the Solomon Islands Broadcasting Service. 1:12
Peru, wedding song, recorded by John Cohen. 0:38
China, ch'in, "Flowing Streams," performed by Kuan P'ing-hu. 7:37
India, raga, "Jaat Kahan Ho," sung by Surshri Kesar Bai Kerkar. 3:30
"Dark Was the Night," written and performed by Blind Willie Johnson. 3:15
Beethoven, String Quartet No. 13 in B flat, Opus 130, Cavatina, performed by Budapest String Quartet. 6:37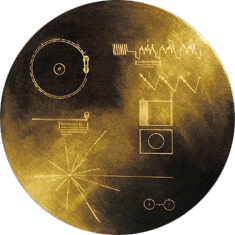 Se poi volete anche ascoltare le registrazioni, andate qui, poi cliccate la sonda che appare al centro e infine il disco dorato. Apparirà un'immagine come quella a destra.
Cliccate il cerchio a sinistra in altro e una applicazione flash vi permetterà di accedere alle registrazioni.