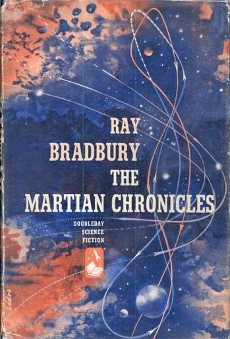 Il 5 Giugno è morto Ray Bradbury.
Veramente sono un po' stufo di scrivere necrologi, però non posso dimenticare che il suo "Cronache Marziane" (1950; trad. it. 1954) è uno dei libri di fantascienza che più mi hanno colpito quando ero ragazzo, al punto che  rileggendo qui i titoli dei racconti che ne fanno parte, mi sono reso conto che, a circa 40 anni di distanza, me li ricordo tutti.
C'è un racconto in particolare, Night Meeting (Incontro di notte nella trad. italiana), in cui, durante uno spostamento notturno, uno strano (e non spiegato) salto temporale fa incontrare un giovane colonizzatore terrestre e un marziano di un altro tempo, quando ancora la civiltà marziana esisteva, prima dell'arrivo dei terrestri.
Ognuno dei due vede l'altro come una persona semitrasparente, dalle apparenze di un fantasma e ognuno dei due vede Marte come è abituato a vederlo: dove il terrestre vede rovine, il marziano vede una città brulicante di vita, dove l'uno vede un oceano l'altro vede un recente insediamento. I due, evidentemente, non si capiscono e se ne vanno ognuno per la propria strada, ciascuno nel proprio tempo, entrambi chiedendosi se quell'incontro era realtà o allucinazione. Ma nessuno dei due sa spiegare quella strana malinconia che si sente dentro…
Per Bradbury, la poesia era più importante di una trama razionale. Per esempio, non si è sforzato di spiegare quel salto temporale. Semplicemente lo fa accadere. Le emozioni, i sentimenti dei protagonisti sono molto più importanti della spiegazione razionale di un fenomeno che, peraltro, è centrale in quel racconto.
Tutto Cronache Marziane è così. I marziani vengono nuovamente fatti fuori dai batteri dei terrestri, prendendo di peso l'idea dalla Guerra dei Mondi di Wells. Una trama banale dal punto di vista della science-fiction. Ma per l'autore è un sistema per mettere nelle mani dei nuovi arrivati un mondo vuoto, ma non da millenni; da poco. Due civiltà si sono incrociate per un breve periodo e ora la seconda si trova a ripartire camminando letteralmente sugli scheletri ancora freschi della prima, come nel racconto The Musicians. È una situazione quasi unica nel mondo della speculazione letteraria e anche della stessa fantascienza.
Nell'opera di Bradbury il focus è sull'essere umano, sui suoi problemi e passioni, piuttosto che sulla tecnologia tout-court. Ciò nonostante la sua forza inventiva è straordinaria, testimoniata da molti libri, anche se tutti si limitano a ricordare Fahrenheit 451 divenuto un'icona anche grazie al film di Truffaut.
Con questa impostazione, Bradbury ha portato la fantascienza nel mainstream letterario e proprio per questo il suo lavoro ha ispirato altre categorie artistiche, oltre al cinema, lasciando un'enorme quantità di tracce e connessioni storiche. Un esempio fra tanti: "I Sing the Body Electric", il titolo di un suo racconto e di una antologia del 1969 è preso da un poema di Whitman ed è poi diventato anche il titolo del secondo album dei Weather Report, del 1972.