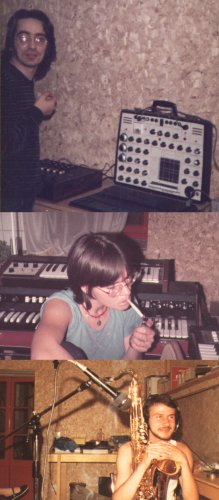 L'altra sera mi sono ritrovato in mezzo a una di quelle strane pseudo-riunioni di famiglia in cui si parla e ci si vede via skype (potenza della tecnologia) con gente che non vedevi da 30 anni e che magari adesso sta a Londra o a Bruxelles e ha 3 figli.
La cosa buffa è sentirsi dire il classico "sei uguale!". Sì, maledizione, non dubito di essere uguale a 30 anni fa quando mi vedi attraverso la malefica webcam di skype. Ho gli occhiali come allora e perlomeno, ho ancora tutti i capelli, io.
Ma è da vicino che dovresti guardarmi per vedere i segni delle cose fatte, delle bottiglie scolate, delle battaglie vinte e degli amori perduti (soprattutto l'ultimo, che è quello che lascia i segni più visibili).
Comunque, in omaggio a quelli che vedevo 30 anni fa e che si chiedevano perché mai mi ostinassi a fare quella strambissima musica contemporanea, quando anche quella normale mi veniva bene, ecco qui una delle pochissime registrazioni normali dell'epoca (con il suono un po' ottuso a causa del degrado del nastro).
Fine anni '70. Sangre y Arena.
Those were the days and that was the band →
(veramente ci sono state anche altre band altrettanto importanti per me, ma non sono rimaste registrazioni)
Il line-up di questa era

MG: basso elettrico con eco ed effetti vari, tastiere, synth e filtraggio di tutto
Margherita: voce con eco
Andrea Turco: sax
La batteria è la stramaledetta Boss da 2 lire.