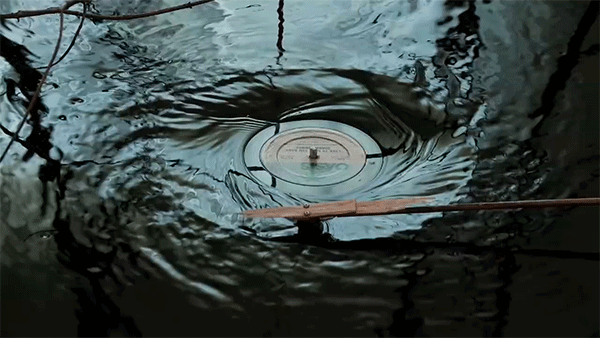 In questa scultura di Evan Holm dei giradischi, con relativo disco in vinile, sono leggermente sommersi e tuttavia funzionano. Dico leggermente sommersi perché il braccetto e la maggior parte del blocco che decodifica la vibrazione della puntina stanno fuori, quindi si tratta solo di qualche millimetro di acqua.
Ciò nonostante, come si può sentire nel video qui sotto, il suono è praticamente perfetto come non avrei mai immaginato. È evidente che il motore deve essere protetto dall'acqua e che la stessa non deve penetrare il blocco della puntina. La prima cosa non è complicata (qui c'è un making of  in cui si vede che la parte elettrica del motore è esterna, appesa all'albero), ma la seconda mi riesce difficile immaginare come sia possibile. Dal making of  non si evincono particolari accorgimenti per impedire all'acqua di penetrare nel foro da cui esce il sostegno della puntina. Evidentemente l'acqua è così poca che non ci arriva.
Tuttavia il moto che si genera nell'acqua dovrebbe interferire con l'aderenza della puntina al solco, arrivando a far levitare il braccetto. L'unica spiegazione è che quest'ultimo sia decisamente pesante e in effetti la lunghezza del braccetto depone a favore di questa ipotesi. Il tutto, comunque, non è un gioco e nemmeno uno studio sulla resa del giradischi. Ecco la nota dell'autore:
There will be a time when all tracings of human culture will dissolve back into the soil under the slow crush of the unfolding universe. The pool, black and depthless, represents loss, represents mystery and represents the collective subconscious of the human race. By placing these records underneath the dark and obscure surface of the pool, I am enacting a small moment of remorse towards this loss. In the end however this is an optimistic sculpture, for just after that moment of submergence; tone, melody and ultimately song is pulled back out of the pool, past the veil of the subconscious, out from under the crush of time, and back into a living and breathing realm. When I perform with this sculpture, I am honoring and celebrating all the musicians, all the artists that have helped to build our human culture.