The Quiet Ensemble è un collettivo artistico formato da Fabio Di Salvo & Bernardo Vercelli.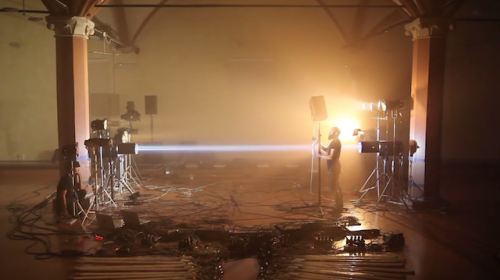 Nella loro installazione The Enlightenment ogni lampada è dotata di un sensore che ne cattura il campo elettromagnetico. Il ronzio che si genera viene inviato al computer e poi all'impianto di amplificazione. Dalle note degli autori (di seguito), non è chiaro se il suono venga elaborato in qualche modo o semplicemente mixato e amplificato.
Un concerto in cui l'orchestra classica e gli strumenti vengono sostituiti da un set up elettrico. Al posto dei violini suonano i neon, a sostituire i tamburi sono le lampade stroboscopiche e al posto dell'arpa vediamo un faro teatrale che illumina il pubblico. Saranno quindi luci di ogni genere a sostituire gli strumenti musicali.

Ogni tipo di lampada ha un suono proprio, costituito dall'amplificazione della propria "ronza", quel rumorìo di disturbo che solitamente viene eliminato durante concerti e spettacoli, generato dall'energia elettrica che alimenta ogni singolo faro.

Le frequenze che emettono le luci si sentono sotto pelle e variano in base alla dimensione ed al tipo d'illuminazione della lampada.

Per estrapolare il suono nascosto delle luci viene utilizzata una bobina di rame.

Ogni lampada ha un proprio sensore che ne percepisce il suono; quando la lampada irradia la luce, il sensore ne cattura il campo elettromagnetico presente intorno al flusso energetico e il rumore viene trasportato attraverso dei cavi microfonici al computer per poi uscire direttamente dall'impianto audio rivelando il "concerto invisibile".