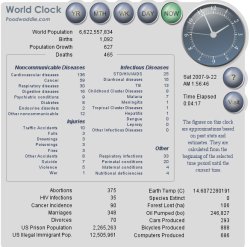 Questo interessante World Stats Counter mostra i valori attuali della popolazione mondiale, nascite, morti, ma anche deforestazione, petrolio estrattto e molti altri dati.
Il tutto è aggiornato dinamicamente, via via che il tempo passa. Offre una prospettiva piuttosto impressionante dell'evoluzione di verti valori, come il ritmo di crescita della popolazione o la velocità di estrazione del petrolio.
Ovviamente l'elaborazione si basa su statistiche da diverse fonti (tutte correttamente elencate).
Premete il pulsante Now per assistere all'evoluzione partendo da questo preciso istante.
This World Stats Counter shows current statistical figures for world population, births, deaths, deforestation, and much more. Except for population and earth temp, all stats reflect the growth since the beginning of the selected time period. You can choose to show growth since the beginning of the year, month, day, or from the moment you click the Now button. All figures represent World stats except divorces (world estimates were not available) and illegal immigration (mostly a US issue and also unavailable worldwide).