Visto che ultimamente siamo in vena romantica

parliamo anche di questa interessante ricerca.
Il Progetto Mazurka si basa sull'analisi di una porzione significativa delle incisioni delle mazurke di Chopin utilizzando la tecnologia digitale per esaminare il timing e la dinamica.
Le incisioni prese in considerazione vanno dagli anni '20 ai nostri giorni e vengono esaminate e confrontate sia per ricavarne delle tendenze generali, sia confrontate per evidenziare somiglianze e differenze.
Fra le prime spicca questo grafico che mostra come i pianisti tendano sempre più a battere la fiacca

. Scherzi a parte, è interessante notare una tendenza a un marcato rallentamento metronomico nell'esecuzione delle mazurke in questi ultimi 90 anni, come mostra il grafico.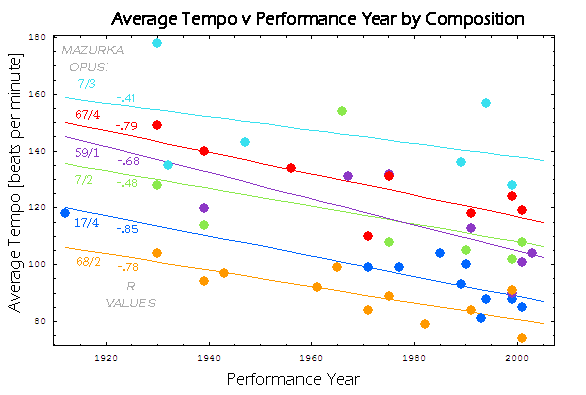 Per esempio, l'esecuzione della Mazurka in LA minore Op. 68, No. 2 è passata mediamente dai 110 MM del 1920 agli 80 di oggi, con la durata che va da circa 2′ (con punte di 1′ 35″) fino ai 3′ 20″ circa degli anni 2000, con punte di 5′ 57″.
Spicca l'incredibile Michelangeli che ha inciso questo brano nel 1941, 1962 e 1971 con durate rispettive di 3′ 01″, 3′ 06″ e 3′ 04″, differenze praticamente nulle.
Lo studio delle esecuzioni è molto accurato. Altri grafici mostrano le somiglianze e le differenze dal punto di vista ritmico. Altri ancora evidenziano le deviazioni rispetto al tempo metronomico, mostrando che alcuni esecutori tendono mediamente a rispettarlo, mentre qualcun altro è costantemente in leggero ritardo o in leggero anticipo, al punto che questa può essere considerata una caratteristica esecutiva.
Fra le altre cose, queste analisi mostrano quanto utile possa essere in mezzo digitale in un contesto di analisi (in questo caso si tratta del software Sonic Visualizer arricchito da plugin appositi).
Peraltro, i grafici delle somiglianze mostrano chiaramente l'identità delle esecuzioni chopiniane di Hatto e Indjic, parte dell'ormai famoso Hatto's Hoax e in effetti, anche se per altre vie, il computer ha avuto una parte non banale nello smascherare questa penosa truffa.
_____________________________________________
The Mazurka Project is based on Chopin's complete Mazurkas, involving analysis of a significant proportion of existing recordings of them, and making use of recently developed techniques for the mechanical capture of timing and dynamic information. The intention is not only to throw light on the interaction of compositional and performance style, using this in turn as a basis for interpreting geographical and chronological trends in the recorded performances, but also to explore the possibility of linking such analysis to the cultural meanings the Mazurkas have supported over the past 150 years.
This project is directed by Nicholas Cook (Royal Holloway, University of London). Technical development for data capture is being carried out by Andrew Earis (Royal College of Music) and analyzed by Craig Sapp (craig.sapp@rhul.ac.uk) who worked in the monkey house at the London Zoo prior to joining CHARM.