Markus Kison ha realizzato un burka "bluetooth enabled" che invia una immagine a tutti i cellulari raggiungibili.
Ovviamente, trattandosi di un abito che da noi è percepito come simbolo di oppressione nei confronti delle donne, si suggerisce che queste ultime potrebbero utilizzarlo per rendere manifesta la propria immagine (o un proprio avatar).
L'inventore afferma che
The virtual appeals can not be gathered by the laws of the Koran and so the CharmingBurka fulfills the desire of living a more western life, which some Muslim women have today.
Bisogna sempre vedere cosa ne pensano i giudici della sharia che hanno condannato donne per molto meno.
Francamente, non so se prenderlo come una cosa seria o una provocazione. E se è una provocazione, è una provocazione utile o fine a se stessa?
D'altra parte Markus Klein non è nuovo alle provocazioni. Guardate questo Ticker Cross, un crocifisso collegato in rete con un display che, oltre a esibire la tradizionale scritta INRI, fa scorrere le quotazioni delle azioni in mano al Vaticano.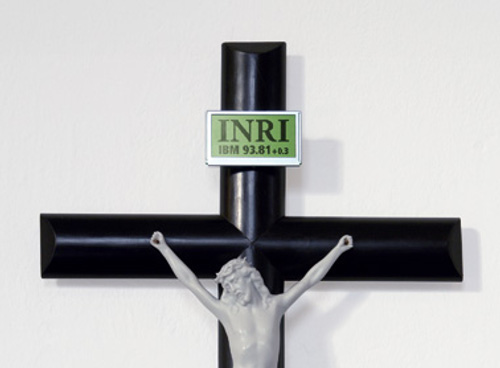 Via Boing Boing