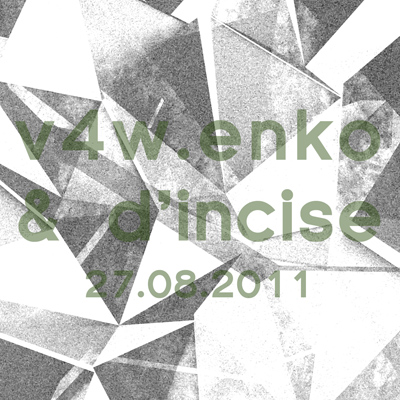 Una registrazione che ha quasi un anno (il titolo è la data, nello stile di molti improvvisatori europei) realizzata da v4w.enko (aka Evgeniy Vaschenko ucraino, quello linkato è il suo sito, ma meglio ascoltarlo su myspace) e d'incise (svizzero, aka Laurent Peter) e pubblicata dalla netlabel Resting Bell a Marzo di quest'anno.
Due brani un po' noisy in cui le forme algoritmiche del primo si fondono con i suoni concreti elaborati del secondo. Ne risultano due improvvisazioni che combinano drone e soundscape con sonorità di oggetti e microfoni a contatto elaborati in real time.
Il tutto è scaricabile da Resting Bell. Come estratto vi linko il primo brano che, come titolo, ha la sua durata.
Note di programma qui.
---
An improvised live recording by v4w.enko (from Kiev, Ukraine, aka Evgeniy Vaschenko) and d'incise (from Geneva, CH, aka Laurent Peter).
The release consists of two tracks, 20 and 35 minute long, recorded on August 27th, 2011
at Tivoli 16, Geneva. The basis of this work is made with v4w.enko's algorithmic forms which are confronted to concret gestures by d'incise. The result is a piece of improvisational work, combining deep drones and soundscapes with live treatments of various objects & contact mics.
Free download from Resting Bell. Excerpt
Program notes here.
Tags:
d_incise
,
improvvisare
,
v4w.enko