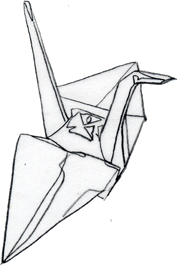 In Giappone la gru è un animale mistico e si dice che possa vivere per 1000 anni.
Un'antica leggenda giapponese promette il realizzarsi di un desiderio a chiunque sia in grado di fare 1000 origami a forma di gru, chiamati Senbazuru.
Questo sito web farà i 1000 origami per voi. Esprimete un desiderio e premete Enter. Un po' banale, ma poetico.
---
The crane in Japan is one of the mystical or holy beasts and is said to live for a thousand years. An ancient Japanese legend promises that anyone who folds a thousand origami cranes, known as a Senbazuru, will be granted a wish by a crane.
This website will fold a thousand cranes for you.