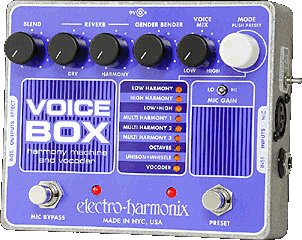 Cosa non si può fare con un po' di FFT e di convoluzione?
Quelli della Electro-Harmonix sono da sempre attenti alla tecnologia applicata al pop e sono anche abbastanza intelligenti. Così hanno fatto una simpatica scatolina, chiamata Voice Box, che incorpora un vocoder e una vocal harmony machine.
UPDATE 15/12
The Electro Harmonix Voice Box features 256-band vocoder, 3 multi-harmony modes: low & high (low, 3rd and 5th below, and high, 3rd and 5th above), octave (2 notes ) and whistle (creates a whistle playing an octave above the note you are playing), 9 user presets, professional pitch shift algorithm, gender mod (that builds man- or woman-like voice), natural glissando, reverb effect with separated controls for dry and effected vocals, built-in mic preamp, +48V phantom power, gain switch and balanced XLR line output to use it with almost any system.
This device is powered by the supplied DC power adapter and comes with die-cast chassis that makes it hard enough to use it on stage. The Electro Harmonix Voice Box Harmony Machine / Vocoder is now available and its recommended price is $215.
Ecco il demo.