Barry Truax, Pacific Fanfare (1996).
Pacific Fanfare was composed to mark the 25th anniversary of both the Vancouver New Music Society and the World Soundscape Project at Simon Fraser University. It is comprised of ten soundmarks recorded by the WSP in the Vancouver area either from the early 1970's or more recently, and thus reflects the changing soundscape of the city. The various sound signals are heard both in their original state, and digitally resonated and time-stretched in order to let them "resonate" in our own memories.
Pacific Fanfare is part of the Islands CD that can be ordered on the author's site.
---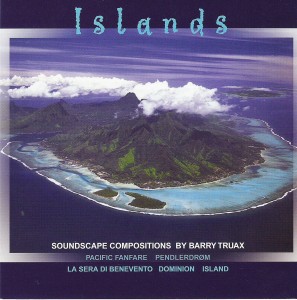 Pacific Fanfare (1996) è un breve brano di Barry Truax composto per celebrare il 25° anniversario della Vancouver New Music Society e del World Soundscape Project, di cui abbiamo parlato qualche giorno fa.
È basata su 10 "soundmarks" registrati nell'ambito del WSP vari anni prima (chi ascolta le nostre proposte sonore riconoscerà subito la sirena della nave con cui iniziava "Entrance to the Harbor" nel post di cui sopra.
Il concetto di "soundmarks" è fondamentale nel lavoro del WSP e designa quei suoni che caratterizzano un determinato paesaggio sonoro. Questi suoni riproposti in Pacific Fanfare sia nella loro versione originale che elaborata mediante riduonatori digitali (una riverberazione artificialmente colorata) e time-stretching (allungamento temporate del suono di solito senza alterazione della frequenza).
Il brano è incluso nel CD Islands, acquistabile sul sito dell'autore.