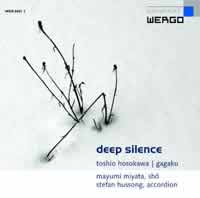 "Music," says Toshio Hosokawa, "is the place where notes and silence meet." This identifies his aesthetic concept as a genuinely Japanese one. It is found both in Japanese landscape painting and in the music, such as the courtly gagaku, in which audible sound always stands in relation to nonsound, i.e. to silence. In their rhythmic proportions Hosokawa's compositions are oriented around the breathing methods of Zen meditation, with their very slow breathing in and very slow breathing out: "Each breath contains life and death, death and life."
Hosokawa Toshio (細川俊夫) è nato nel 1955 a Hiroshima. Ha studiato composizione in Europa, a Berlino e Friburgo con Isang Yong e Klaus Huber.
Di lui conoscevo solo Circulation Ocean per orchestra. Poi ho trovato questi pezzi per fisarmonica e shō (un organo a fiato tipicamente asiatico; esiste in varie fogge dall'India alla Cina; vedi wikipedia).
Alcuni di essi, come quello che potrete ascoltare, derivano da brani tradizionali del Gagaku, altri sono stati composti da Hosokawa, ma tutti sono modellati su un ritmo lentissimo, con i suoni dei due strumenti, quasi sempre nel registro acuto, che diventano praticamente indistinguibili.