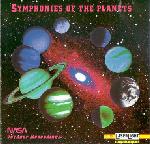 In the August and September 1977, two Voyager spacecraft were launched to fly by and explore the great gaseous planets of Jupiter and Saturn.
Voyager I, after successful encounters with the two, was sent out of the plane of the ecliptic to investigate interstellar space.
Voyager II's charter later came to include not only encounters with Jupiter (1979) and Saturn (1981), but also appointments with Uranus (1986) and Neptune (1989).
The Voyagers are controlled and their data returned through the Deep Space Network, a global spacecraft tracking and communications system operated by the JPL for NASA.
Although space is a virtual vacuum, this does not mean there is no sound in space. Sound does exist as electronic vibrations. The especially designed instruments on board of the Voyagers performed special experiments to pick up and record these vibrations, all within the range of human hearing.
These recordings come from a variety of different sound environments, e.g. the interaction of the solar wind with the planet's magnetosphere; electromagnetic field noise; radio waves bouncing between the planet and the inner surface of the atmosphere, etc.
In 1993 NASA published excerpts from these recordings in a set of 5 CD (30 minutes each) called Symphonies of the Planets (now out of print).
This is the CD 1.