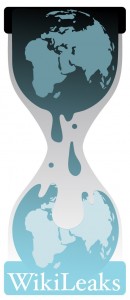 Quattro giorni fa, Wikileaks, che si definisce "a multi-jurisdictional organization to protect internal dissidents, whistleblowers, journalists and bloggers who face legal or other threats related to publishing", ha iniziato a pubblicare una immensa mole di messaggi scambiati da apparecchi mobili (tipicamente pagers, cioè cercapersone) nei fatidici giorni 11 e 12 settembre 2001.
Tutto il materiale è rigorosamente in ordine cronologico. Dall'insieme, 573.000 messaggi non solo fra privati, ma anche fra forze dell'ordine e agenzie governative, si vede come la notizia dell'attacco abbia cominciato a circolare.
Il primo segnale è alle 08:50:25, circa 4 minuti dopo il fatto: "A plane crashed thru the twin towers. Real bad..BR", ma il flusso si incrementa rapidamente
08:50:50: BOMB DETINATED IN WORLD TRADE CTR. PLS GET BACK TO MIKE BRADY W/A QUICK ASSESSMENT OF YOUR AREAS AND CONTACT US IF ANYTHING IS NEEDED AT 212-647-2345.
08:51:24: plane crash at World Trade Center in NYC-no word on details- efforting more info now
08:51:37: THE WORLD TRADE CENTER HAS JUST BLOWN UP, WE SEEN THE EXPLOSION OUTSIDE OUR WINDOWS. TERESA…
08:51:42:THERE WAS SOME KIND OF EXPLOSION AT WORLD TRADE CTR. MAY HAVE SOME TROUBLE GETTING TO METRO TECH.
08:52:27: GO TO TWIN TOWERS PLANE CRASH IMMEDIATELY WITH KEVIN. WALTER.
08:52:57: World trade center damaged; unconfirmed reports say a plane has crashed into tower. Details to come.
….
È interessante notare come, qualche minuto dopo, la polizia di NY non abbia ancora una chiara cognizione del fatto:
08:53:44: NYPD Ops Div" <|1 PCT WORLD TRADE CENTER|— 1 PCT – WORLD TRADE CENTER – POSSIBLE EXPLOSION WORLD TRADE CENTER BUILDING. LEVEL 3 MOBILIZATION TO CHURCH AND VESSY.
08:54:46: NYPD and emergency units at World Trade center, RE; airplane crash. Small Jet.
Poi i messaggi della polizia scompaiono, segno del fatto che sono passati su altre linee.
Potete consultare l'indice di tutti i files qui, in ordine cronologico inverso (inizia con i files del 12 e va giù fino al primo che parte alle 03:00 dell'11). Ogni file copre 5 minuti, ma attenzione: non pensate di trovarvi di fronte a una bella serie di conversazioni. I file sono infarciti di messaggi di broadcasting e altre cose poco significative. In genere, si confondono fra quotazioni di borsa, test tecnici, numeri, codici e email provenienti da cercapersone di chi, quel giorno, operava in veste ufficiale come il personale del Pentagono, la polizia di New York, e ancora messaggi automatici da computer che segnalano guasti.
Tutto questo, però, fa nascere anche un altro interrogativo non banale. Wikileaks non ha voluto rivelare la propria fonte, tuttavia appare chiaro che esiste un'organizzazione che ha intercettato e poi archiviato migliaia di telecomunicazioni sul territorio nazionale già prima dell'11 settembre.
Chi sono e perché?
---
Nota:
Wikileaks (da leak, "fuga di notizie" in inglese) è un sito internet che dà spazio all'invio di materiale classificato e riservato, in genere documenti di carattere governativo o aziendale, da parte di fonti coperte dall'anonimato.
Il progetto si occupa di preservare l'anonimato degli informatori e di tutti coloro che sono implicati nella "fuga di notizie".
Wikileaks vuole essere "una versione irrintracciabile di Wikipedia che consenta la pubblicazione e l'analisi di massa di documentazione confidenziale". Lo scopo ultimo è quello della trasparenza da parte dei governi quale garanzia di giustizia, di etica, di una più forte democrazia.
Il sito è curato da dissidenti del governo cinese, scienziati, attivisti, giornalisti; i suoi obbiettivi primari sono le nazioni dell'ex Unione Sovietica, dell'Africa sub-sahariana e del Medio Oriente. Comunque i cittadini di ogni parte del mondo possono e sono invitati ad inviare materiale "che porti alla luce comportamenti non etici di governi e aziende".
Gran parte dello staff del sito, come gli stessi fondatori del progetto, rimangono per ora anonimi.
[wikipedia]