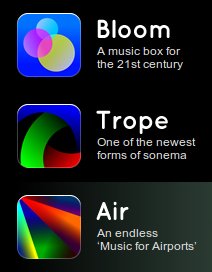 Bloom, Trope and Air are three applications developed by Brian Eno and the musician / software designer Peter Chilvers that brings to the iPhone the concept of generative music popularized by Eno.
Part instrument, part composition and part artwork, Bloom's innovative controls allow anyone to create elaborate patterns and unique melodies by simply tapping the screen. A generative music player takes over when Bloom is left idle, creating an infinite selection of compositions and their accompanying visualisations.
Darker in tone, Trope immerses users in endlessly evolving soundscapes created by tracing abstract shapes onto the screen, varying the tone with each movement.
Air is described as "An endless Music for Airports". It assembles vocal and piano samples into a beautiful, still and ever changing composition, which is always familiar, but never the same.
Air features four 'Conduct' modes, which let the user control the composition by tapping different areas on the display, and three 'Listen' modes, which provide a choice of arrangement. For those fortunate enough to have access to multiple iPhones and speakers, an option has been provided to spread the composition over several players.