In occasione del suo passaggio alla Roundhouse di Londra (7-31 Agosto), abbiamo una immagine un po' più accurata dell'installazione Playing the Building di David Byrne di cui abbiamo parlato in febbraio.
It's all mechanical. There's no speakers, there's no electronics, or any of that modern rubbish.
È un po' buffo che Byrne chiami "rubbish" quello con cui ha giocato fino all'altro ieri. Ma forse questo approccio si adatta alla struttura vittoriana della Roundhouse, che, in origine, era un capannone adibito alla riparazione di motori a vapore.
In realtà Byrne sfrutta, con grande spiegamento di mezzi, idee che girano come minimo dagli anni '70 (se non prima) e hanno raggiunto una certa notorietà all'epoca delle performance Fluxus (far suonare gli oggetti). Cioè, in questo caso quello che fa non è farina del suo sacco. Però almeno, grazie alla sua notorietà, ha il merito di proporre le suddette idee a un pubblico che altrimenti non le avrebbe mai conosciute…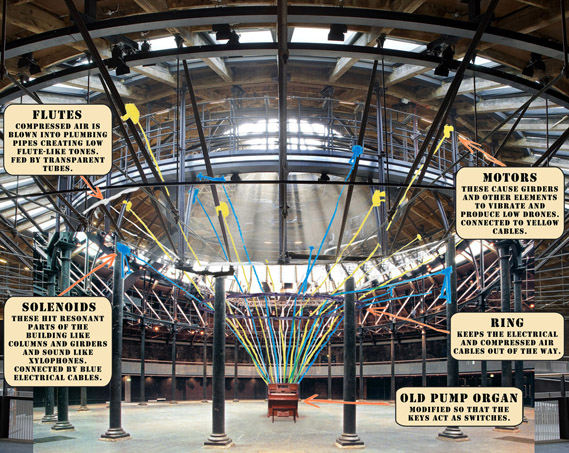 Ed ecco anche un nuovo video