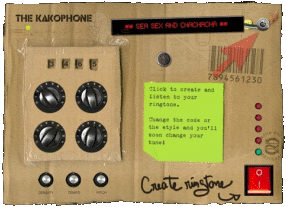 Ladies & Gentlemen I introduce to you the Kakophone.
This funny virtual synthesizer can generate an infinite number of customized ringtones in different styles. Then it sends the files to your mail address. All for free. You must only agree to receive a newsletter (advertisements, I suppose), that you can easily unsubscribe.
The device is really funny. It makes a lot of pretty noises. I suppose that many kids has been connected and used the program without thinking so much. Try it. But first read below.
Well, when you first enter the kakophone, it ask you for your telephone number that is printed on the device as bar-code (look under the red row: 789… it's not mine). The number is used as random number seed to be sure that each ringtone is unique. From a mathematical point of view, this is correct.
Then you play with the device generating some ringtones and finally choose one.
Now the kakophone must create a file fitting your cellular phone. So it ask you for your country, the brand and model of your phone and your mail address.
And here I stop because I realized that if I press the button, the site could link
my country
my email
my phone number
the brand and model of my phone
Ok, it can't be sure that the phone number is mine and I am just a little paranoid, but…