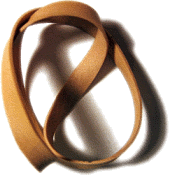 Ilhan Mimaroglu è un compositore turco, nato nel 1926 ed emigrato negli USA, che ha prodotto parecchia musica elettronica analogica negli anni '60.
Ora l'etichetta EARLabs ha ripubblicato i suoi lavori rendendoli accessibili qui.
Fra i brani disponibili, ho scelto il "Prelude for magnetic tape XI", curioso in quanto l'unica sorgente sonora è un elastico di gomma le cui vibrazioni sono sotto la soglia udibile, ma possono essere incise da un apposito microfono e rese udibili con amplificazione e trasposizione.
Ilhan Mimaroglu is a composer born in Istanbul (Turkey) in 1926. Gone to the USA he realized many analogical electronic music works in the sixties. Now the EARLabs label has published his works. You can find it here.
The sound source for Prelude No. 11 is a rubber band whose rich timbres cannot be fully perceived by the unaided ear but can be captured by sensitive microphones. Throughout this piece the use of modification techniques not directly associated with the tape recorder is kept at a minimum.
Ilhan Mimaroglu – Prelude for magnetic tape XI
Att.ne: EARLabs usa ftp invece del solito http per il trasferimento dei file audio. Se il player del vostro sistema non funziona, scaricate il file con il tasto destro, salvatelo e poi ascoltatelo.