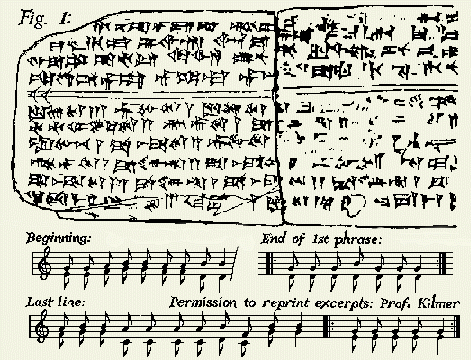 Secondo il Prof. Anne Draffkorn Kilmer (professor of Assyriology, University of California, and curator at the Lowie Museum of Anthropology at Berkeley), quella che vedete potrebbe essere la partitura del più antico brano musicale attualmente conosciuto.
La tavoletta, che proviene dall'antica città assira di Ugarit (oggi Ras Shamra in Siria), risale a 3400 anni fa. Nella parte superiore si trova il testo, mentre la parte inferiore reca informazioni sull'esecuzione.
Il punto è che, sempre secondo l'interpretazione del Prof. Kilmer, la musica che ne esce è diatonica (scala maggiore ovviamente non temperata ma verosimilmente in just intonation, cioè basata sulla scala naturale) e armonizzata. Ho messo questi dati in neretto perché, se fossero veri, smentirebbero in un solo colpo ben due assunti della musicologia tradizionale: l'idea che le prime scale strutturate risalgano ai greci (2000 anni fa) e che le prime manifestazioni musicali fossero solo melodiche.
Ecco una trascrizione MIDI della suddetta musica.
Pagina originale qui.
Segnalato da: The Well-Tempered Blog