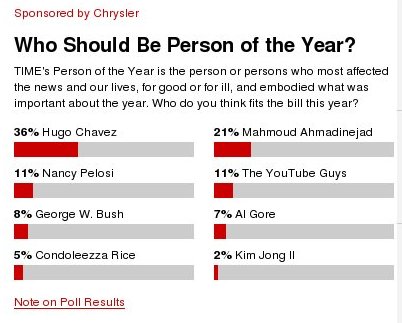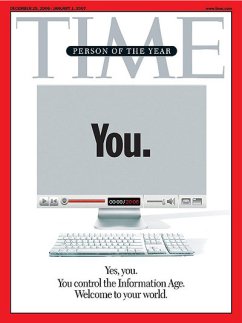 Ok, the Time Magazine's person of the year 2006 is YOU.
As you can see in the image up, Time Magazine made a poll to choose "the person or persons who most affected the news and our lives, for good or for ill".
Nominee was George W. Bush, Condoleezza Rice, Kim Jong Il, Al Gore, Mahomoud Ahmadinejad, Hugo Chavez, Nancy Pelosi and the YouTube Guys.
But the poll winner is not You Tube Guys. As you can see in the image, published on Time site, the winner is Hugo Chavez with a good 36%. The second is Iran leader Ahmadinejad (21%).
You can control by yourself. Go here and vote. You will see the poll result (as far as I know, voting is the only way to see the results).
But Time Magazine has completely ignored the poll results. Maybe Chavez was too disturbing.
It's a good democracy proof. And then Time says that "YOU control the information age". Welcome in your brave new world.
Altrenotizie, basandosi sulle news dei blog latino-americani, ci apre gli occhi su una bella prova di democrazia.
Uomo dell'anno secondo Time Magazine siamo noi. "Cittadini della nuova democrazia digitale".
A scegliere "la persona o le persone che più hanno influenzato l'informazione o le nostre vite, nel bene o nel male" sarebbero dovuti essere proprio questi "cittadini", chiamati votare attraverso il sito internet del giornale, scegliendo tra George W. Bush, Condoleezza Rice, Kim Jong Il, Al Gore, Mahomoud Ahmadinejad, Hugo Chavez, Nancy Pelosi e la comunità di YouTube.
Alla fine, sempre secondo Time Magazine, i vincitori siamo noi, Come si legge in copertina, "Tu. Sì, tu. Tu controlli l'era dell'informazione. Benvenuto nel tuo mondo", facendo pensare che a vincere sia stata la comunità YouTube.
Proprio un bel mondo. Perché le votazioni dei lettori non hanno neanche lontanamente indicato questo risultato. Come si vede nella figura, peraltro pubblicata dallo stesso Time, il vincitore è stato Hugo Chavez (36%), con la sua ferma opposizione alle ingerenze degli Stati Uniti in America Latina (i chicanos sono tanti), mentre il secondo è niente-di-meno che Ahmadinejad (21%), con la sua volontà di dotarsi del nucleare e i suoi attacchi a Israele. Due leader che gli Stati Uniti vedono come il fumo negli occhi.
Potete controllare. Ho anche trovato la pagina del sondaggio. Andate qui e votate. Vi appariranno i risultati (che io sappia, votare è l'unico modo per vederli).
Ok, Time può anche non considerare il sondaggio vincolante, ma allora lo scriva (o non lo faccia per niente). Bella prova di democrazia. Assomiglia molto a quella che gli americani stanno cercando di esportare.