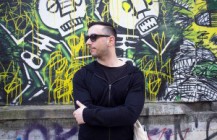 Sam Salem (n. 1982) è un compositore di Manchester che lavora principalmente in area acusmatica e audio/video.
È principalmente interessato ai suoni degli ambienti urbani. Molte delle sue composizioni si focalizzano sui suoni di luoghi specifici, ciò nonostante la sua musica non ha niente a che fare con l'ambient. Invece Salem esplora l'ambiente sonoro cercando di rivelare la musicalità nascosta nei suoni ambientali. In questo senso i suoi lavori vanno al di là del semplice paesaggio sonoro.
Quello che ascoltiamo qui, Too late, too far è del 2014. Note dell'autore:
Too late, too far is part of a larger work entitled The Fall, composed between 2012 and 2014. The compositional process began during a residency at STEIM in December 2011: Amsterdam was the source from which I collected the materials for this piece.

I think now of the unwitting owners of actions contained herein: the cyclists and joggers of Vondelpark, the man on a bridge who offered a bike for a cigarette, the swans calling across the Red Light District, the choir of Sint-Nicolassbasiliek, and the countless others, long since dispersed but not forgotten: shouting, singing, laughing, swearing, clapping. I think also of the creaks and rhythms of rocking boats, of passing trams, the ubiquitous bells and horns, the rain, wind and lapping water, and the 5am fireworks on New Year's Day. I consider these materials as fragments of sound, but also, now, as fragments of time. Sometimes their shimmering light is obscured, sometimes it is revealed.

This work, "peopled by bad dreams" (and the occasional good one), balances somewhere between loss and hope: after more than two years of work, this is its final character.