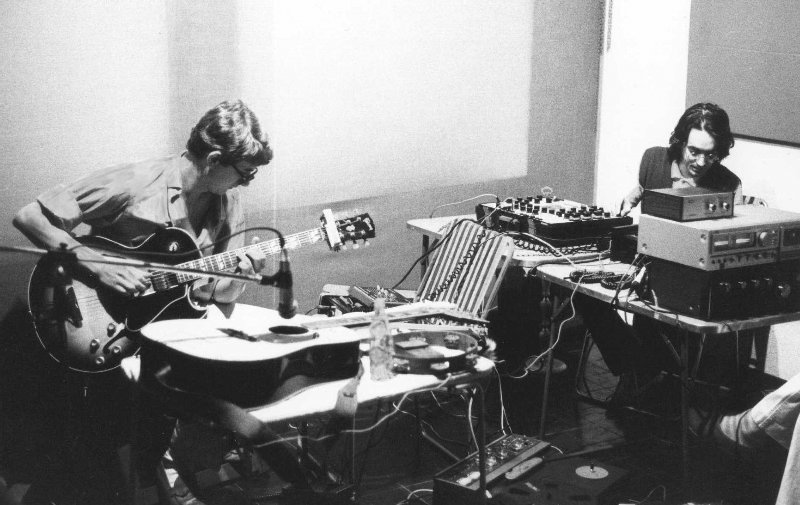 In 1982 I created a free improvised music duo with the guitar player Roberto 'Zoo' Zorzi. The iconoclastic group activity last for some years, cutting down and destroying all melodic & harmonic structures and developing a more sound oriented music.
We mainly worked by processing simple sounds and creating an ever-changing and magmatic audio stream by mean of a long delay line (5 to 10 secs) made by two tape-connected revox machines.
Some melodic or harmonic fragments appear on this music, but are very soon destroyed, wasted or changed by my AKS synth used as sound processing machine working on the looped material (not on the source sounds, see schema here).
So our works were full of ghosts of a refused past and omens, like ruins from which we began building something new.
Disgraziani! was our first work. The piece was first performed on an art gallery about June, 10 1982. This is the original recording. The title refers to the not-easy listening to our music. When I ask Zoo to find a title, he said "Disgraziani! is the word the people will shout after listening to this music".
A word for non-italian people: Disgraziani contains my name but is very similar to the italian word "disgraziati" that means "fallen in disgrace" and, when shouted to someone, means "criminals, addicted to anti-social activity" and so on.
Current year is the Disgraziani 25th birthday.
Disgraziani fa parte dell'onda iconoclasta del 1982, quando improvvisavamo, Zoo Zorzi ed io, sezionando e distruggendo tutte le strutture melodico/armoniche che ci capitavano sottomano.
Nella presentazione in concerto, infatti, dicevo: "il brano inizia con dei bei suoni di chitarra con arco, che io elaboro facendoli diventare via via sempre più brutti, fino a quando assomigliano solo a disturbi radio", esternando l'intenzionalità distruttiva.
Ovviamente, nel corso di questa azione altre strutture emergevano, si formavano e scomparivano. Qualcuna riusciva anche a farsi largo ed esistere, come accade per l'arpeggio finale (vedi schema tecnico qui).
I nostri pezzi, quindi, erano pieni di spettri e di presagi, fantasmi di un passato o rovine su cui costruire qualcosa.
Questa registrazione è proprio quella della prima esecuzione che si è tenuta in una galleria d'arte, intorno al 10 Giugno del 1982 (anche questo per alcuni è un presagio).
Quest'anno, dunque, Disgraziani compie un quarto di secolo. Ascoltandolo adesso, a 25 anni di distanza, lo trovo melodico. Come diceva Cage, tutto, prima o poi, è destinato a diventare melodico.
Il titolo è frutto della mente bacata di Zoo :-). Le nostre prove erano costituite da improvvisazioni totali, senza alcun accordo preliminare, che venivano registrate. Poi, riascoltando, lui diceva "che pacco, questo" e io dicevo "allora lo suoniamo in concerto". La nostra misura della validità dei brani era quanto potevano essere temibili per l'ascoltatore.
Poi chiedevo "come lo intitoliamo, questo?" e quella volta Zoo rispose "Disgraziani!, quello che ci dirà la gente…"
Graziani/Zorzi – Disgraziani! (1982) – Free improvised music by Mauro Graziani synth, electronic devices, loop control & Roberto 'Zoo' Zorzi electric guitar, devices