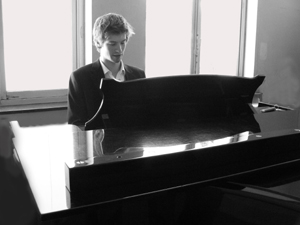 I begin posting some pieces from the concerts at Conservatorium E.F. Dall'Abaco here in Verona, Italy.
Jeux d'eau is a piece for solo piano by the French Impressionistic composer, Maurice Ravel. The title often translates to "Fountains", "Water Games", and "Playing water". The piece, a virtuosic tone-poem, is inspired by Franz Liszt (Jeux d'eau a la Villa d'Este), and also as Ravel explained:
Jeux d'eau, appearing in 1901, is at the origin of the pianistic novelities which one would notice in my work. This piece, inspired by the noise of water and by the musical sounds which make one hear the sprays water, the cascades, and the brooks, is based on to motives in the manner of the movement of a sonata—without, however, subjecting itself to the classical tonal plan.
This work is considered one of the first examples of "musical impressionism" among Ravel's compositions. At the time of writing this work, Ravel was a student under Gabriel Fauré to whom it is dedicated. Ricardo Viñes was the first to publicly perform the work in 1902, although it had been privately performed for the Apaches previously. Written on the manuscript by Ravel, and often included on published editions, is "Dieu fluvial riant de l'eau qui le chatouille… / Henri de Régnier" which in English editions is translated to "River god laughing as the water tickles him…"; this quote is from Régnier's Fête d'eau as a note that the piece is to be played lightly. To one performer who played the piece too slowly, Ravel said her waterfalls sounded sad.
Iniziamo a pubblicare qualche estratto dai concerti della rassegna "Dalle 6 alle 7" che si tiene presso il Conservatorio E.F. Dall'Abaco tutti i martedì.
Dato l'indirizzo contemporaneo di questo blog, qui ci limitiamo ai brani del '900.
Il titolo di questo brano di Ravel, Jeux d'eau (1901), va interpretato non solo come "giochi d'acqua", ma anche come "acqua che gioca" come evidenzia questa frase tratta dal poeta simbolista Henri de Régnier, trovata scritta a mano sul manoscritto e spesso riportata anche nell'edizione stampata: "Dio fluviale che ride mentre l'acqua gli fa il solletico…".
Come scrive Ravel, il brano "è ispirato al rumore dell'acqua e ai suoni musicali suggeriti da spruzzi, cascate e ruscelli". È evidente anche il debito verso i "Jeux d'eau à la Villa d'Este" di Listz.
Maurice Ravel – Jeux d'eau – Xavier Locus, pianoforte.