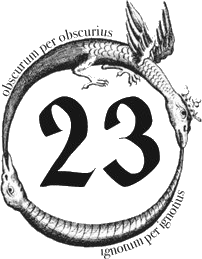 In April this blog count 23023 visits.
The trend is growing and I feel fine, but this number (2 times 23 with a big hole in between) should be interesting for the many 23 obsessed, the Lost fans, the William S. Burroughs fans (I am), the Illuminati and the Discordians.
Nel mese di Aprile questo blog ha avuto 23023 accessi.
Il trend è ascendente e la cosa mi rende felice, ma saranno contenti anche gli ossessionati dal 23, fra cui
i fans di Lost,
di William S. Burroughs (ci sono anch'io),
dei film The Number 23 e 23,
gli Illuminati
i Discordiani.
Secondo costoro, tutti siamo legati dall'inesplicabile enigma del numero 23, ma due volte 23 con lo spaventoso vuoto dello zero in mezzo non è da tutti. Spero mettano il mio blog fra i loro libri esoterici.
Ringrazio il blog "ventitre" per l'immagine.