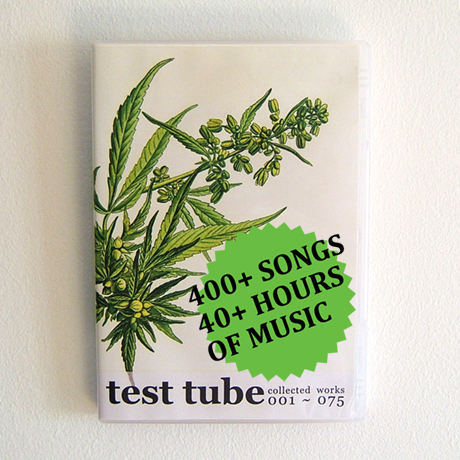 La netlabel portoghese test tube (abbreviata in '| come si vede nel logo) sta diventando rapidamente una delle mie preferite. Prima di tutto per la sua produzione, sempre orientata allo sperimentalismo e alla drone music. Poi per la dimensione del suo catalogo: più di 100 releases in 4 anni non sono poche per una etichetta non-profit, il tutto senza sacrificare la qualità.
Infine, per la cura delle copertine, ideate dalla stessa etichetta.
In realtà test tube è l'emanazione non-profit dell'etichetta mono¨cromatica. Mentre quest'ultima è una vera e propria etichetta che distribuisce fisicamente e a pagamento le proprie produzioni, test tube le diffonde gratuitamente via internet in Creative Commons.
Oggi test tube mette in vendita un DVD con gran parte della propria produzione a soli € 9.50.
Si tratta dei primi 75 dischi (da 001 a 075 pubblicati dal 2004 a metà del 2007), per un totale di più di 400 brani e oltre 40 ore di musica.
Tutti gli album inseriti nella raccolta si possono ascoltare da queste pagine: 2004, 2005, 2006, 2007 (solo fino alla release 075).
L'acquirente può anche personalizzare la copertina, scegliendo una fra le 10 piante disponibili.
________________________
This is a special offer by the netlabel test tube: a collection of everything released + some bonus stuff included (it's a secret) on one DVD-R beautifully packaged in 10 different sleeve designs to choose from!
Roughly 400 tracks and more than 40 hours of excellent music from the 5 continents, ranging from pop-rock/dancefloor radio-friendly tunes to experimental, minimal, drone and improv. electronic and acoustic music. Really eclectic stuff!
You can listen to all the albums that are in the DVD going to the test tube archive pages: 2004, 2005, 2006, 2007 (until the release 075).
Price is very low: € 9.50 outside Portugal.