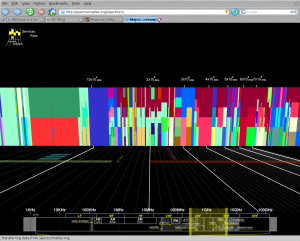 Non male questo atlante interattivo dello spettro elettromagnetico (cliccare l'immagina per ingrandire).
An interactive visualization of the Radio Spectrum, and a database of artistic and social interventions that have been developed in the last decades that employ radio technologies. Projects are catalogued according to the frequencies they occupy.

AES was designed and developed by Bestiario with Irma Vila and Jose Luis de Vicente for the AV festival (New Castle) and CCCB (Barcelona).
Io però ho qualche perplessità sull'effettivo significato artistico di una operazione di questo tipo. È un'ottima visualizzazione, ma non c'è nessuna interpretazione. Praticamente mi comunica dei dati scientifici in una bella forma, godibile. Potrebbe essere una nuova interfaccia per ricevitori, ma ogni tanto ho la sensazione che l'etichetta di arte venga applicata con estrema facilità.
D'altra parte, l'arte informativa esiste e ha un senso evidenziare dei dati di fatto sconosciuti ai più (anche qui ne abbiamo parlato). In un suo scritto nemmeno tanto recente, Eno proponeva l'installazione di enormi schermi che mostrassero in tempo reale i dati sul pianeta e sul cambiamento climatico.
Via Rhizome