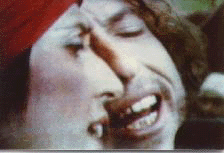 Dylan non canta, abbaia.
Con questo statement mi sono attirato le ire di parecchi dylaniani. Nessuno ha capito che il mio era un apprezzamento.
Perché mi piace Dylan quando abbaia, ve lo spiegherò con una canzone di Woody Guthrie. Quello che sulla chitarra aveva scritto "questa macchina ammazza i fascisti".
Si intitola Deportee (Plane Wreck at Los Gatos). È stata scritta nel 1948 e parla di quando gli americani riempivano di messicani qualche aereo residuato bellico (tipicamente i vecchi bimotori dakota) e li portavano a lavorare negli USA per poi riportarli indietro. Non li volevano come immigrati, ma solo come braccianti a basso costo. E poi, ogni tanto, uno di questi aerei cadeva e allora il New York Times riportava solo i nomi del pilota e dei 3 americani che erano a bordo, perché gli altri 28 morti, lavoratori messicani, erano soltanto dei deportati.
Questa canzone, resa famosa da Pete Seeger, esiste in moltissime versioni, tutte più o meno nello stile del country e/o western. Questa, per esempio, è di Arlo Guthrie, nello stile canonico.
La canzone viaggia. Arriva nelle mani di un quartetto d'eccezione nell'area country: Johnny Cash, Kris Kristofferson, Waylon Jennings, Willie Nelson (scusate l'interruzione brutale alla fine; il file era danneggiato) che ne danno una versione struggente e dondolante, come l'andare a cavallo.
Ai tempi di Easy Rider, poi, passa fra le dita dei Byrds e arrivano le frasettine bottleneck e le chitarre sono più libere. Tira aria di California, ma l'insieme è sempre maledettamente educato; i 3/4 ben scanditi.
La cantano anche Nancy Griffith & Lucinda Williams con contorno di amici vari: voci fra Joan Baez e Peter, Paul & Mary. Il country diventa folk, malinconico, ma gentile.
Anche Billy Bragg, pur essendo un cantautore della classe operaia (e per di più inglese) non è molto più arrabbiato. Non si sfugge alla tradizione.
Le cose cambiano un po' con il Boss. Springsteen ha una voce leggendaria e qui si mangia ritmo e strofe, un po' come fa con un altra canzone di Guthrie, This Land is your Land. La testimonianza di una memoria con uno stile ormai lontano dal country e anche dal folk, un modo per parlare del presente ricordando il passato.
Ma in un certo momento del 1976, Dylan la esegue ad un festival con Joan Baez. Lei cantava spesso questa canzone, con la sua bella voce impostata. Bella occasione per un duetto.
Però da subito si trova a correre disperatamente dietro a Dylan, che si accompagna malamente con la chitarra andando al 50% più veloce del normale e dal primo inciso in poi, abbaia il testo senza un attimo di respiro, annullando quasi del tutto le pause fra le strofe come solo lui e Mick Jagger sapevano fare. Ed è una corsa da brivido in cui le parole non sono più gentili, ma ti arrivano addosso come sassate, perché la rabbia è rabbia e si deve sentire.
Noi siamo morti sulle vostre colline e nei vostri deserti. Siamo morti nelle vostre valli e nelle vostre pianure. Siamo morti sotto i vostri alberi e nelle vostre foreste. Di qui e di la del fiume, siamo morti nello stesso modo.

Mi piace Bob Dylan quando abbaia…

The crops are all in and the peaches are rott'ning, The oranges piled in their creosote dumps; They're flying 'em back to the Mexican border To pay all their money to wade back again
Goodbye to my Juan, goodbye, Rosalita, Adios mis amigos, Jesus y Maria; You won't have your names when you ride the big airplane, All they will call you will be "deportees"
My father's own father, he waded that river, They took all the money he made in his life; My brothers and sisters come working the fruit trees, And they rode the truck till they took down and died.
Some of us are illegal, and some are not wanted, Our work contract's out and we have to move on; Six hundred miles to that Mexican border, They chase us like outlaws, like rustlers, like thieves.
The sky plane caught fire over Los Gatos Canyon, A fireball of lightning, and shook all our hills, Who are all these friends, all scattered like dry leaves? The radio says, "They are just deportees"
We died in your hills, we died in your deserts, We died in your valleys and died on your plains. We died 'neath your trees and we died in your bushes, Both sides of the river, we died just the same.
Is this the best way we can grow our big orchards? Is this the best way we can grow our good fruit? To fall like dry leaves to rot on my topsoil And be called by no name except "deportees"?