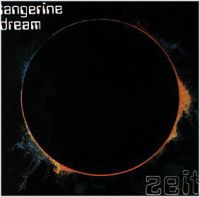 Please, listen to this track.
It's called "Birth Of Liquid Plejades", for 3 synth and 4 celli, from the LP "Zeit" recorded by the german band "Tangerine Dream" in 1972.
In the seventies, this music was not a product by contemporary, academic, electronic music groups, it was pop-music here in europe. You could read this album's review on a pop music magazine between the review of last work by Dylan or the Stones (the reviewers called it "cosmic music").
Well, it was regarded as experimental music, but it was on the edge of the pop music. Bands like Tangerine Dream made european tours in medium size theatres and had audience and success. This kind of recordings was regularly on sale. Could be a little difficult to find it in normal music shops, but even in medium size towns. there always was a shop where people could buy it.
We can say that the 1972 Tangerine Dream was a cheap imitation of Ligeti's music of the sixties, but the important fact is that band like this one were a sort of bridge from pop to experimental music.
Now, can someone tell me why currently every kind of sperimentation and research has disappeared (or been banned) from the popular music? What's happened?