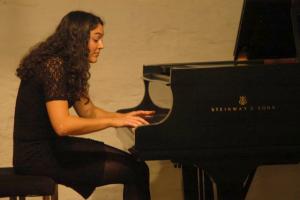 Claude Debussy began his three movement piano suite, Pour le piano, L. 95, around 1896 and completed it in 1901. There was a great deal of evolution in the composer's style during these years; his songs and orchestral writing had become wholly unique. It was not until this late date in his career (he was in his late thirties when he began this suite) that Debussy choose to incorporate the idiomatic challenges of the piano into his personal vocabulary.
[from Answers.com]
Iniziata nel 1894/96 e terminata del 1901, la suite Pour le Piano è un'importante opera di transizione nel linguaggio di Debussy: da una parte la scrittura pianistica risente ancora di influenze determinanti (i claviembalisti settecenteschi nei movimenti esterni, Satie nella sarabanda centrale), ma dall'altro vi si scopre una grande disinvoltura e originalità.
Il primo brano, Prélude (Assez animé et très rythmé, in La minore), fu probabilmente l'ultimo ad essere scritto: è un pezzo è pieno di slancio e di carattere quasi rude, che sembra liberamente ispirarsi ai Preludi e alle Fantasie per strumento a tastiera di Bach. La successiva Sarabande fu composta verso la fine del 1894, ed in origine doveva far parte delle tre Images inédites dedicate a Yvonne Lerolle. E una pagina dalla linea melodica purissima e dall'andamento nobilmente composto, e costituisce probabilmente il momento più alto dell'intera composizione. Chiude la suite una Toccata di grande brillantezza (composta con ogni probabilità nel 1896), una sorta di moto perpetuo in cui fanno capolino le ombre dei grandi clavicembalisti del Settecento, con François Couperin e Domenico Scarlatti in testa.
Claude Debussy – Pour le Piano – Tessa Catchpole, pianoforte
Esecuzione registrata presso il Conservatorio Dall'Abaco, Verona, 30/01/2007